Deciding to adopt a child or teen is a significant event for any family, especially because the adoption process can be complicated. In Indiana, adoption laws outline who can adopt, licensing requirements, home studies, and more. Read on to learn what you need to know about adopting in Indiana.  
Marriage Requirements to Adopt 
Any resident of Indiana may legally adopt a child, regardless of their age and whether they are single or married, heterosexual, or LGBTQ. Individual agencies sometimes have their own age and marriage requirements.
Indiana adoption laws don't expressly stipulate that a same-sex parent may adopt their partner's biological child. This process, also called "second-parent" adoption, may be possible if the court decides it's in the child's best interest if the other biological parent is willing to relinquish their parental rights or if the court terminates them. 
Consent to Adopt
Before proceeding with adoption in Indiana, the prospective adoptive parents will need to have legal consent from:  
Both living biological parents, regardless of whether they were married at the time of the birth, unless their parental rights have been terminated.

Any other person, agency, or local office with legal custody of the child. 

The child themselves if they are older than 14.

The child's spouse, if they are married.

 
Prospective parents don't need consent from:  
Any biological parent who deserted or abandoned the child.

The biological father of a child who was born out of wedlock and didn't establish paternity.

The biological father of a child born from rape, child molestation, sexual misconduct with a minor, incest, or a parent who has relinquished their parental rights.
Home Study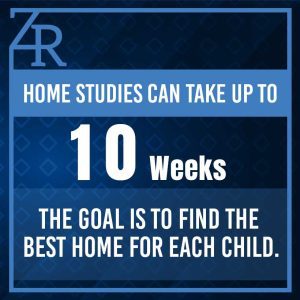 Prospective adoptive parents in Indiana must do a home study with the county or agency with which they are working, unless they receive a waiver of home study from the court (step-parent or grandparent adoption only). Home studies vary by jurisdiction or agency, but they evaluate the safety of the prospective adoptive family's home and their psychological and physical health, financial stability, support systems, and understanding of adoption. The goal is to find the best home for each child. Home studies usually take six to 10 weeks.
The agency may request these documents as part of a home visit: 
Certified copies of birth certificates for you, your partner, and any additional children either of you have, and a certified copy of your marriage license if you are married.

Death certificate for any former spouse. 

Adoption decree for other adopted children. 

Child abuse and criminal record clearances, or a notarized statement from the police that says you and your partner have never faced any felony convictions. 

 

Income verification, such as W-2 forms.

 

Health statement from a physician. 

 

Written references. 
Questions may include:
Why do you want to adopt? 

Is your marriage healthy, and how do you resolve conflict?

Is your neighborhood safe? 

Will your extended family welcome and integrate an adopted child?

Is your work schedule flexible so you can accommodate parenting responsibilities?

What childcare arrangements are you planning?
Residency Requirements 
To file a petition to adopt in Indiana, you must be a resident. If you are not a resident of Indiana but want to adopt a child here, you must file the petition in your state of residence. The state will waive this requirement if the child is "hard to place" due to age, a medical condition, race, or sibling group. 
Licensing Requirements 

Indiana adoption law requires you to fulfill licensing requirements to become an adoptive parent. The licensing requirements can take as long as six to twelve months. They may include:  
A criminal background check

Child protective service checks 

16 hours of training 

Completed adoption packet provided by the county or agency

Complete the home study process  
Adopting in Indiana? Speak with Zentz & Roberts
The family law attorneys at Zentz & Roberts, P.C. offer compassionate legal representation for Indiana residents seeking to adopt. Our services include:
Interstate adoptions

Foster parent adoptions

Grandparent adoptions

Single-parent adoptions 
Contact us today- 317-220-6056 to book your appointment.