Studies are showing that the rate of grandparents raising grandchildren is on the rise, with approximately 5 to 6 percent of grandchildren living with their grandparents. While these numbers might seem low, when you look at the bigger picture, this amounts to nearly four million children living in grandparent-grandchild households.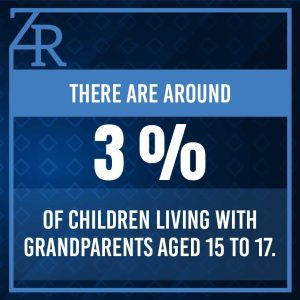 While younger children are more likely to live with grandparents, with more than 10% of grandparent-grandchild households involving children under the age of two, there are around 3% of children living with grandparents aged 15 to 17. 
However, while these statistics are proof that grandparents can and do raise their grandchildren, this does not mean that adopting or even gaining visitation rights is easy. Most states, including Indiana, would prefer that children be raised by their parents. There is also the concern that as grandparents are older, they could struggle to connect with their grandchildren or be in good enough physical and mental condition to provide adequate care. 
That said, grandparents do have rights in Indiana, and in many cases, living with a grandparent might be a safer and more supportive environment for the child. Still, as a grandparent, you will have to prove that you are capable of providing adequate care if you wish to adopt your grandchild. 
If you are grandparents adopting grandchildren or if you have any other concerns about your rights as a grandparent, we are here to help. At Zentz & Roberts, P.C., our Indiana adoption lawyers have extensive experience handling cases involving children and adoptions, including those involving grandparent rights.  
Do Grandparents Have Rights With Regard to Adoptions in Indiana?
The laws concerning adoption, guardianship, and even visitation in Indiana are complex, but it's important to understand that you do have rights as a grandparent. 
Grandparent Visitation Rights
According to Indiana Code 31-17-5, grandparents can seek visitation rights if the child's parents are divorced. You can also seek visitation rights if one of the parents is deceased or if the child was born out of wedlock. However, a paternal grandparent for a child born out of wedlock cannot seek visitation rights unless paternity is established. 
It's important to note that even if you are eligible to seek visitation, it will only be granted if it is in the best interest of the child, which will be determined by the court. If you are seeking visitation but you do not get along with one or both of the parents and they are restricting you from seeing your grandchild, you will likely be unable to seek legal recourse. 
Grandparent Guardianship Rights
If you do not think it is in the child's best interest to live with their parents and you want more than just visitation rights, you may be able to seek legal guardianship. Guardianship grants a responsible adult — other than the parents — legal custody and control of a child. 
While some grandparents may seek temporary guardianship, with the intent to return the child to their parents once the parents are in a better position to care for the child, it is also possible for the guardianship to be a permanent situation until the child reaches adulthood. 
Guardianship is different from adoption, however, in that the parents might still retain certain rights and responsibilities. If you become the legal guardian of a grandchild, you will still have full legal custody and will assume the rights and responsibilities of the parent, but the parents may also retain some rights. 
However, to be awarded legal guardianship of your grandchild, you must be able to show that having custody of the child is in the child's best interests, which usually means proving that the parents are unfit in some capacity. Even if you have already been caring for the child, without a court order granting you legal guardianship, the biological parent can still remove the child from your care at any time. 
How Can I Legally Adopt My Grandchild?
If the birth parents have died, if the parents are unfit to parent, or if they have abandoned the child, you may be able to file a petition for adoption. If you are granted legal custody of your grandchild through adoption, the rights of the biological parents will be terminated.
To adopt your grandchild, you will have to provide clear and convincing evidence that it is in the best interest of the child to be in your care and that the parents are no longer able to provide a safe, loving, and supportive home. It helps if you can also show that the child has already bonded with you and been in your care. 
The entire process of having an adoption granted can be complex. You will have to file the petition, gain consent from the appropriate parties, and provide convincing evidence. You may even need to attend contested court hearings if the parents do not agree or give their consent. If that is the case, a judge will review all evidence and determine what is best for the child. 
Because the process can be so challenging, it is best if you work with an attorney who is well-versed in grandparent rights and will know how to help you build a strong case to prove that living with you is in the child's best interests. 
Getting Legal Help With Adopting Grandchildren in Indiana 
If you are considering a grandparent-grandchild adoption or if you need help gaining visitation or legal guardianship rights, our Indiana family law attorneys can help. Contact our team at Zentz & Roberts today for a free consultation by visiting us online or calling us at 317-220-6056.