Going through a divorce is an emotional experience, and meeting with a divorce attorney for the first time can be overwhelming. To prevent your emotions from taking over, prepare thoroughly before your initial consultation. Remember to be completely honest from the beginning of the proceedings. Your divorce attorney can't reveal anything you tell them without your permission. If you're not open about all the relevant information, they won't be able to provide the best legal counsel.
Here is a divorce consultation checklist that will enable you to get the most out of your initial divorce consultation: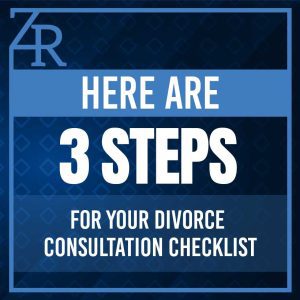 1. Identify your goals
Before your initial divorce consultation, identify your goals and which ones are priorities. Communicating these will help your lawyer be in the best position to represent you effectively and tell you if your wishes are realistic.
If you have children, custody issues, division of parenting time, and child support may be most important. Other priorities may include the division of assets or debt.
2. Compile relevant documents and records
Prepare for your initial divorce consultation by compiling all relevant documents which can be sorted into categories to include:
Property records, financial documents, and data
These include information that will be relevant when your attorney and the court determine how to divide property and set child support and alimony amounts. Here's what to collect:
Federal, state, and local tax returns for the last five years
Retirement, IRA, and annuity account statements
Mortgage statements, deeds, or rental agreements
Credit card statements and records of any other debt
Payroll statements and paystubs
Business records
How much is in your spouse's retirement account
Checking and savings account statements
Car loan statement
A list of monthly bills and average amounts, including food, home repairs, education, utilities, and other expenses
Insurance policies for you and your spouse, your car, health, and your home
Real estate appraisals
Documentation of any other valuable family heirlooms or assets
A copy of your credit report to ensure all accounts and debts have been identified.
Court filings and legal documents
These documents may impact your current divorce case. Other legal documents may be necessary as well. Here is what to bring to your divorce consultation:
Prenuptial agreements
Any divorce filings or separation agreements
Records of any past legal proceedings that involved you, your children, or your spouse
Immigration and naturalization documents if applicable
Records with evidence
Your attorney should see any documents or records with evidence – including abuse – that could affect your divorce case. Here is what to bring:
Social media posts
Photos or videos
Texts
Emails
Letters, cards, or notes from your spouse to you, to your spouse from you, or to your children from your spouse
Business documentation
Lastly, if you or your spouse own a business, bring all documents related to the business including:
Tax returns
Financial statements
Partnership and shareholder agreements
Business credit card statements and insurance policies
Any other contracts
3. Come with a written list of questions
Don't be shy about asking anything, even if it seems trivial. You can also ask the attorney more specific questions about your case, but they may not be able to answer until they delve in. Here are some questions:
How long have you been practicing law?
How many years of experience do you have with divorce?
Are you accessible while handling my case? How can I reach you?
Will I work with you throughout the case? Will other attorneys assist?
What is your hourly rate, retainer fee, and other costs?
Experienced Divorce Attorneys in Indiana
The family law attorneys at Zentz & Robert, P.C., offer compassionate divorce representation. In addition to divorce, our services include:
Mediation
Parenting time
Child support
Spousal Maintenance
Legal separation
Contact our team at Zentz & Roberts today for a free consultation by visiting us online or calling us at 317-678-9463.